Human Microbiome
A New Revolution in
Human Health
Human Commensal Microbiota refers to the microbial flora naturally living in human body and the total collection of all of their genes is called Human Microbiome. The commensal flora and their gene products plays a critical role in maintaining
our Health & Longevity.
Microbiome Precision Probiotics
We are BiomTM Pharmaceuticals, a science-backed company pioneering in microbiome research. BiomTM design Precision Probiotics using patented Biomsify® Technology that play key roles in human health and disease including immune regulation, cardiometabolic health, neurodegeneration and cancer prevention. We believe everyone deserves a healthy balanced microbiome and we strive to develop microbiome-based products for a safer, healthier and longer life for all.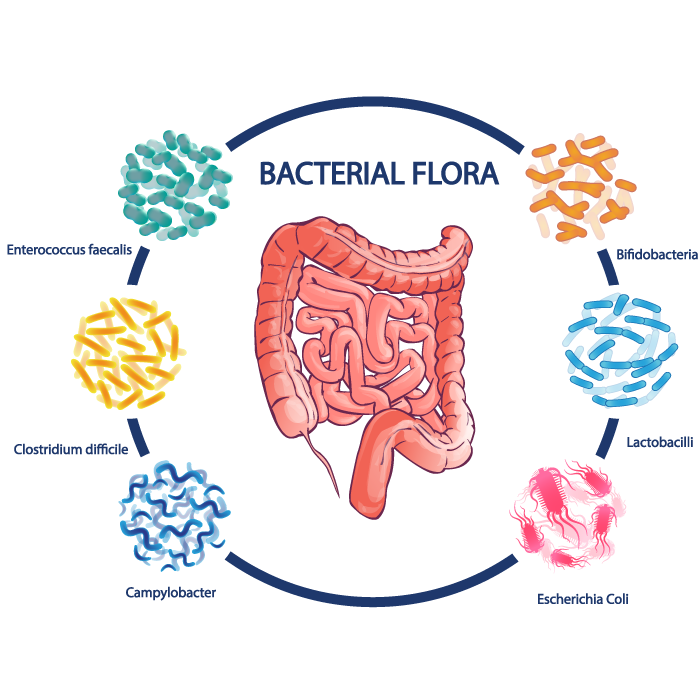 Biom probiotics®: Microbiome Gut Health
Biom Probiotics® is our flagship 3-in-1 2nd generation gut health product line with probiotics, prebiotics and immunobiotics.
Your gut microbiome works as a 'metabolic organ,' promoting digestion, energy metabolism, immunity, bone metabolism, even sleep patterns and proper brain function. Our 3-in-1 probiotics made with patented Biomsify microbiome technology has superior probiotics and prebiotics to diversify, stabilize, and balance your good gut flora.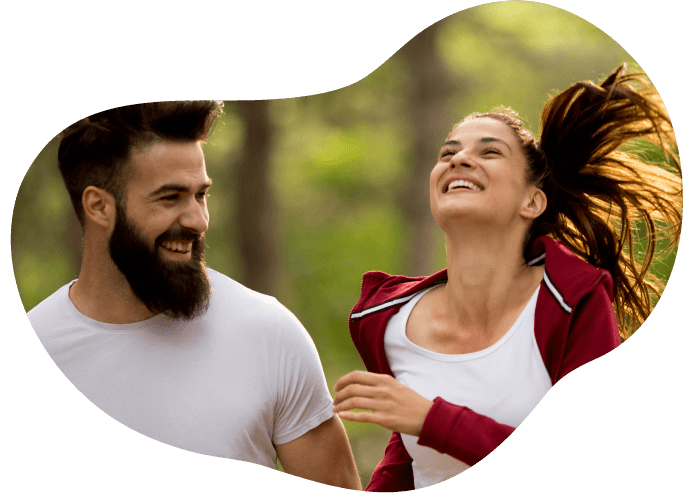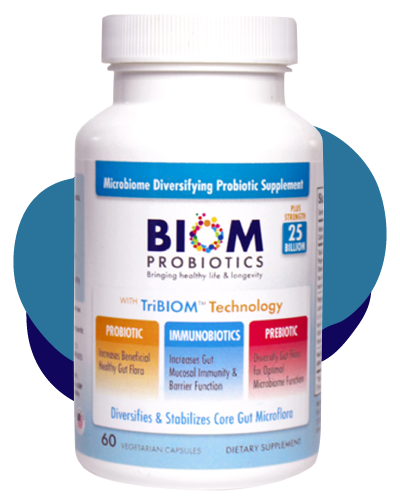 25 Billion
Biom Probiotics® 3-in-1 Formula 25 Billion
Diversifies Gut Microflora and Microbiome
$59.95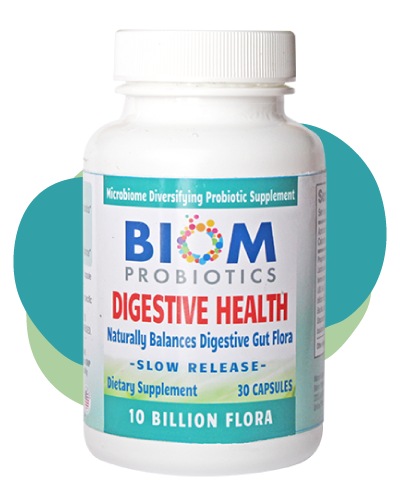 10 Billion Flora
Digestive Health Probiotics
Naturally Balances Gut Flora to Maintain Good Digestion
$26.95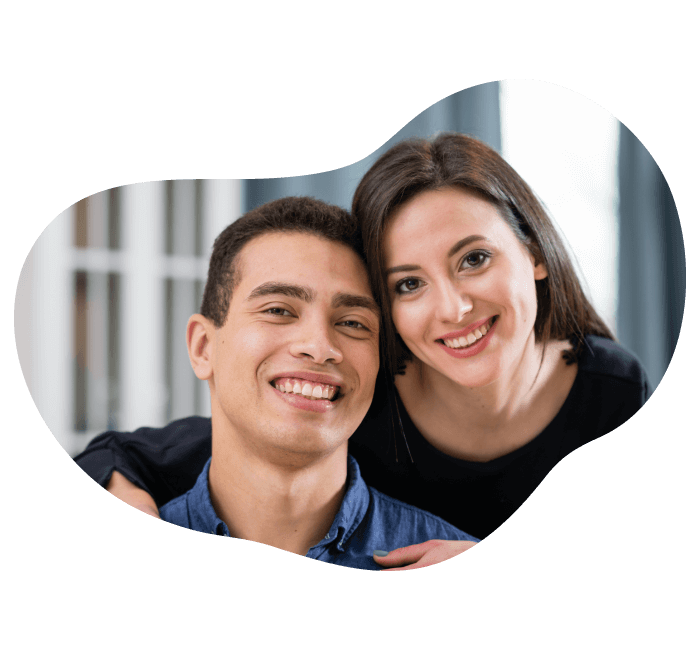 ImmuneLIFETM
ImmuneBiom Disease Resistance Products
Latest research shows that our innate immunity relies on a healthy gut microbiome. Our studies show that a combination of specific prebiotic fibers, what we call ImmuneBiomTM, can positively modulate and boost your immunity. This is particularly important as we witnessing unprecedented fatal infections from viruses. As there are no therapeutics against some of these viruses, boosting your immunity is critical for healthy life.
We have created ImmuneLIFETM using patented Biomsify probiotic technology and clinically studied immunobiotics LP-20 and immunity strengthening ImmuneBiom prebiotic fiber.
ImmuneLIFETM
Immunity enhancing ImmunobiomTM formula
$49.95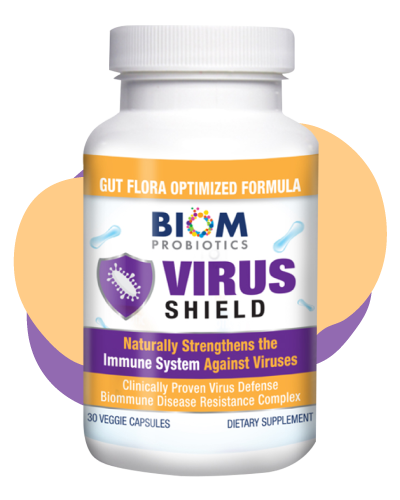 Virus Shield
Deep Immune Booster for Adults. Helps Super Charge Immunity.
$59.95
VagiBiom®
Redefining Feminine Health
Just like the gut, your vagina consists of microorganisms — mostly bacteria, plus some fungi and viruses, together called vaginal microbiome. A healthy vaginal microbiome is characterized by mostly "good" bacteria of the lactobacilli type and fewer "harmful" micro-organisms. Imbalanced vaginal microbiome profiles have been shown to be associated with increased rates of bacterial vaginosis, infertility, preterm birth and increased risk of STD.
VagiBiom® line is designed to balance and nurture vaginal microbiome using our patented Biomsify technology.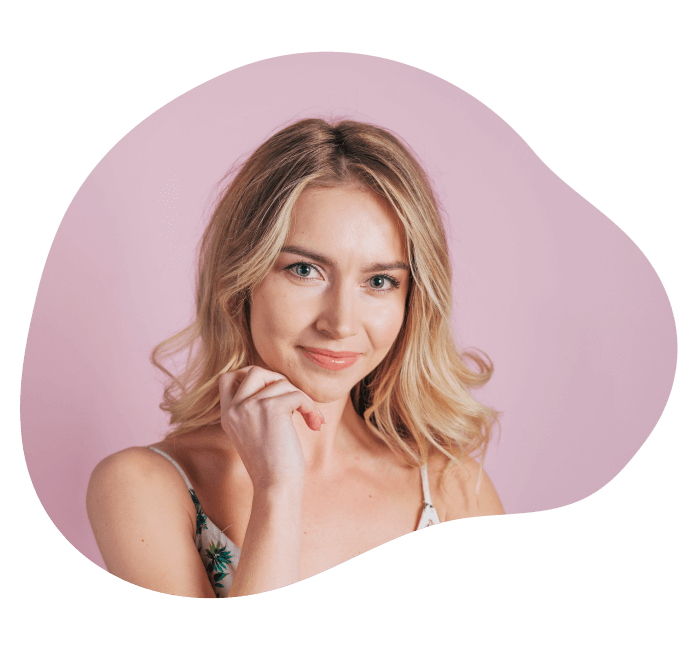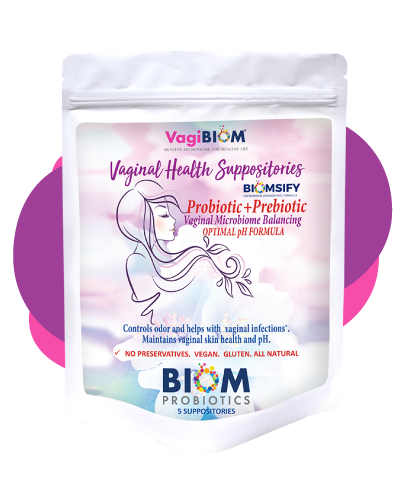 Fragrance-Free 15
Vaginal Suppository
Balance vaginal microflora & pH and helps with common urogenital problems.
$34.99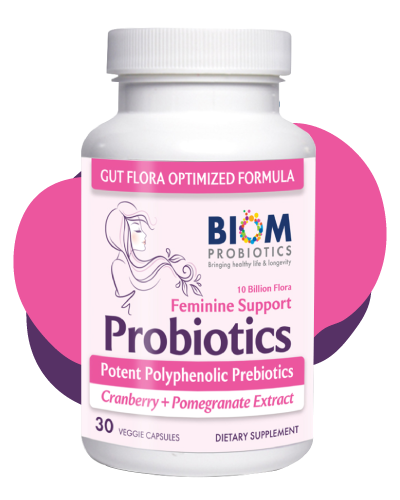 10 Billion Flora
Feminine Support Probiotics
Clinically Proven to Help Gut, Immune, Feminine Health.
$18.95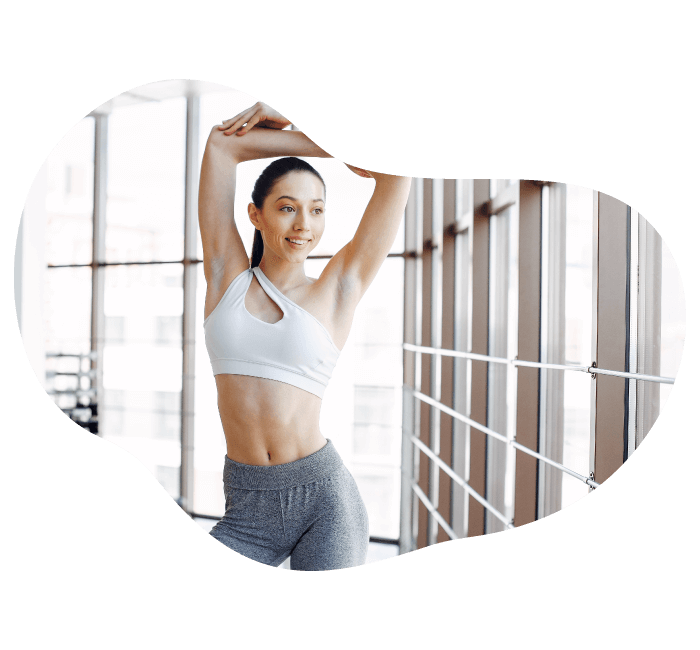 Shape
LeanBiom® Weight Loss & lean muscle products
Healthy weight and BMI is key for healthy life and longevity. Shape line of products offers a healthy weight management system by selectively enriching weight-loss promoting LeanBiom® gut flora. SlimGUT prebiotic fibers reduce appetite and help consumers to reduce food intake cravings. Shape LeanBiom® optimizes gut flora for a healthy weight and Body Mass Index (BMI). It offers a weight management system that utilizes microbiome science and is backed by strong scientific principles rather than simply trusting on self-control.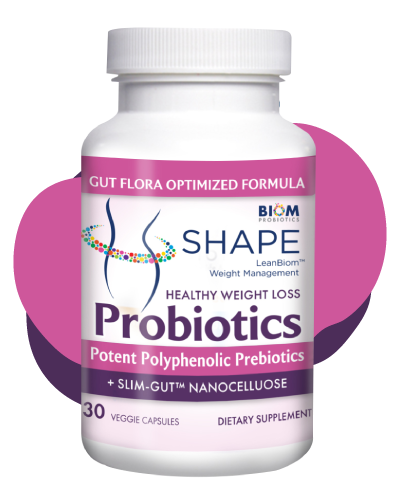 BiomTM Healthy Weightloss Probiotics
Potent Polyphenolic prebiotics with Actiponin
$49.95
LeanBiom Weight Maintenance Formula
Probiotics, prebiotics and pea protein
$59.95
Longiva®
Antiaging and Longevity Formula
We developed Longiva® to achieve one of the most ambitious goals of 21st-century medicine: increasing human longevity with high quality of life. Longiva® is formulated to enhance mitochondrial regeneration, to optimize telomere health, and to reduce oxidative cell and DNA damage. We use clinically proven senolytic agents such as NAD+, NMN, resveratrol, pterostilbene, quercetin and gut balancing probiotic-prebiotics cocktails to attain this. Biom's NAD+ products are one of the most recommended by anti-aging physicians.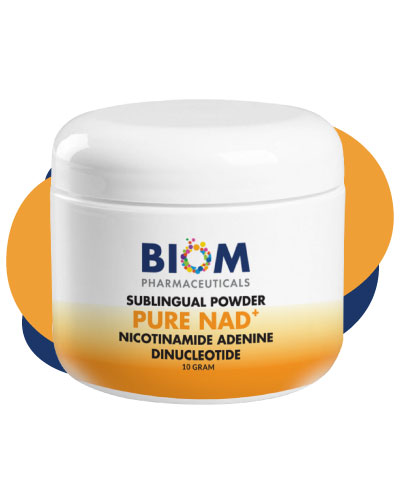 NAD+ Sublingual Powder
Cold SHPPED for Maximum Potency, Certified- 10g (Dose: 200 mg) Nicotinamide Adenine Dinucleotide (NAD+)
$74.95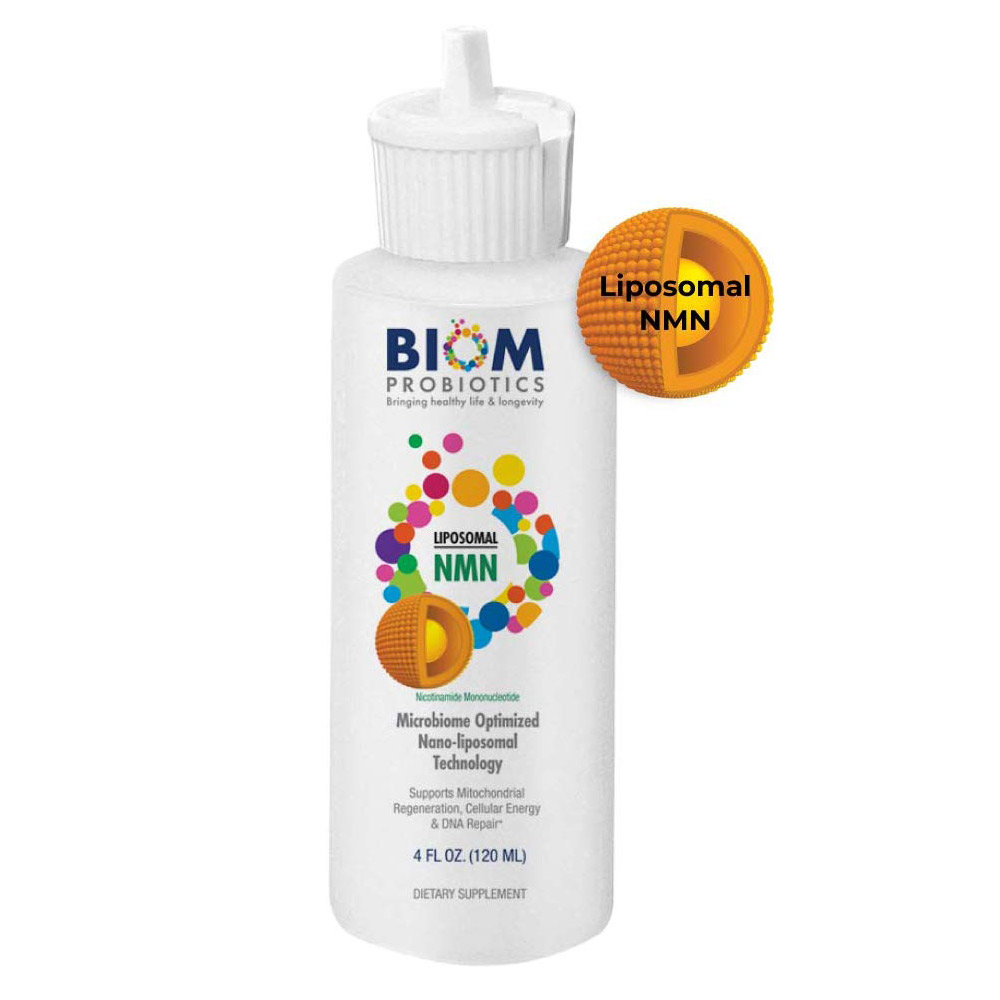 BiomTM Liposomal NMN
Support mitochondrial regeneration, cellular energy, DNA repair, sirtuin gene activation and healthy aging.
$139.95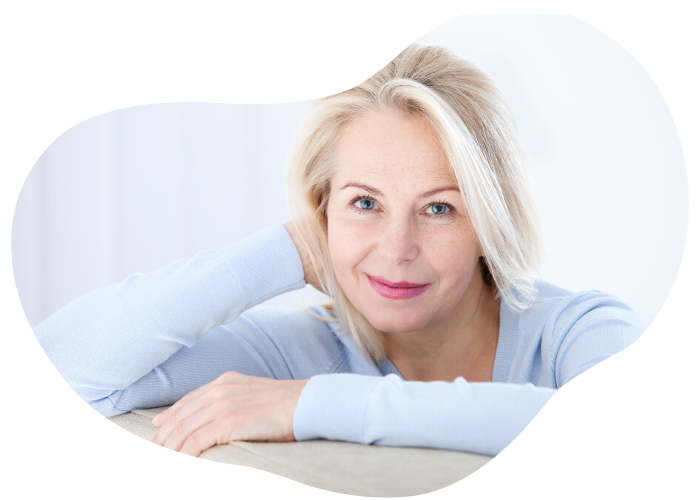 BiomTM Specialty Products
Probiotic-optimized anti-aging and skin brightening formula
Our research found that when Biom precision probiotics is combined with healthy ingredients such as glutathione and citicoline delivered synergistic and superior benefits than the ingredients used alone. Therefore, we designed specialty suppositories and supplements using our probiotic-prebiotic complex with clinically – proven health ingredients for liver detox, skin brightening and brain health.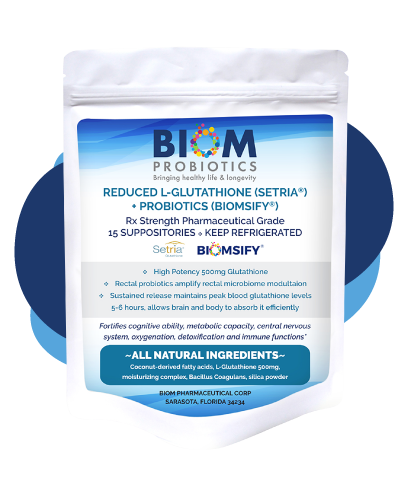 30 Suppositories
L-Glutathione + Probiotic
Setria GSH brand Anti-oxidant for Liver Health, Antiinflammation & Detox- Vegan, Non-GMO, Gluten-Free (30)
$119.95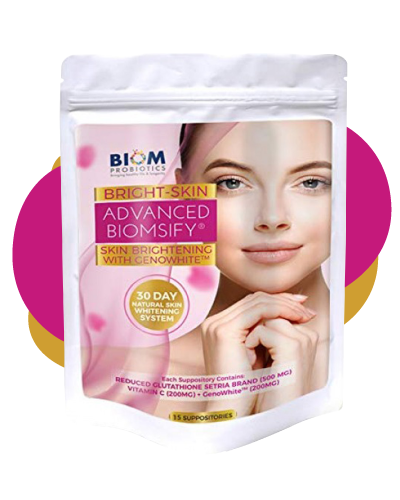 15 Suppositories
Brightskin Glutathione + Vitamin C + Geno White
Skin Whitening Suppositories for Lightening & Brightening of the Skin, Reduce dark spots & Improves skin clarity.
$79.95